Welcome to Foamipedia, the Avatar Humor Wiki!

Our purpose is to spread the truth about Avatar: The Last Airbender that Avatar Wiki won't allow you to speak. We are currently editing over 163 articles.

Before you go anywhere, we recommend you read the following crap:
Once you're all done with that, go ahead and start adding your own crap contributions to this great wiki. Really, get editing or else. Foamipedia is not responsible for any brain damage that you recieve from reading our articles.
… that we love you?
… that Zutara isn't canonical?
… that Iroh has gotten in bed with just about every girl in the Avatar world?
… that you should vote for Ozai in the next presidential election?
… that Foamipedia needs more contributors and you should start editing here or we'll burn your nation? Also tell your friends, if you even have any, about us.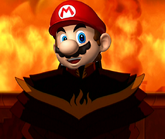 Fire Lord Mario also known as Mario the Badass was a Fire Lord who ruled over the Fire Nation during the era of Mario the Badass. He is considered one of the most prominent and influential Fire Lords in the history of the Fire Nation. An amazing adventurer, genius doctor, and brilliant military stagiest, Fire Lord Mario made many great gains for the Fire Nation during his rule. Mario, like most other Fire Lords, was a huge fan of burning some nations to ground and it was an activity that he loved to do weekly. Mario's firebending was (more...)

To vote for a Featured Article click here.
Okay..I am sure you have all noticed that there aren't many people around Foamipedia. So, go tell all your friends (if you have any) to come here and help out. And being part of this community means getting great rewards! So, if you want the following just Click Here!

A chance to serve Foamy
You can a…

Read more >

Hey guys, as you can obviously tell we have a new main page. It took me a bit to finish it,but I am finally done. Hopefully, this one will be more interactive and friendlier then our previous one. If you got any questions just ask on my talk page. Also, the wiki now has more than 60 articles and mo…

Read more >

Hello everyone and welcome to Foamipedia. We here are the official Avatar Humor wiki, if you're a n00b then go read these.

FAQ
Dos and Don'ts
No personal Attacks
and all this

Once, youve read it all then go ahead and start editing. All hail Foamy!

Read more >
( More News Blogs | More Blogs )
General notices:
Forums are for discussion about anything funny. Talk pages are for discussion about the articles.
(Update )
Don't have a sense of humor?