Ibuki

Biographical Information
Nationality

This crazy woman is from the Fire Nation.

Age

Eh??

Physical Description
Gender

Did You look at the picture?

Height

Didn't bother

Hair color

Ponytail and stuff

Eye color

She has them

Personal Information
Allies
Enemies

Makoto, the Earth Kingdom

Weapon of choice

Like tiny knives and stuff.

Fighting style(s)

SECRET AGENT STYLE!!!!!!!!!!!!!!!!!!!!!!

Chronological and Political Information
Profession

Ninja

Position

Did You read?

Affiliation

Ninjas everywhere, Capcom
Ibuki is a Fire Lord and a former secret agent. She is an enemy of Earth Queen Makoto.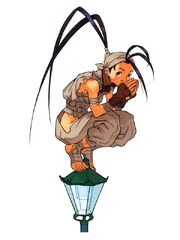 Military changes
Edit
She educated the Fire Nation military in the ways of stealth and Ninja-ism and replaced all the legendary pokemon that Konata Izumi put in and replaced them with Ninjasks which made the people very angry.
Gaining the throne
Edit
She dethroned Fire Lord Konata Izumi by bagging her and dumping her in theEarth Kingdom
Dethroning
Edit
She was later owned and dethroned by Ryu after some "Hadouken" and "Shoryuken".
Revenge Fail
Edit
She was later owned and dethroned by Ryu. She tried to get revenge on Makoto but epicly failed at it.
thumb|404px|left|This was Ibuki's attempt at revenge.
She's been a Copper piece-less nomad ever since. She spends her days stealing food and money from unsuspecting n00bs.